Discussion Starter
·
#1
·
Had some time after Christmas and the weather look good so thought I need a Big Bend fix. Plans started out, I was to ride the GS to Big Bend and meet the wife in the hill country 3 days later. She was going to haul the Wing up and then we would spend a few days in the Hill Country on the wing.
Well she got to stressing about trailering the bike by herself so being the softy I am, told her, "That's OK honey, I will suffer and just ride the Wing the whole trip".
Hop on the bike the 26th and with a cool morning start, a few hours later, I am taking a break by the Sabinal River and enjoying a cool one from the icebox.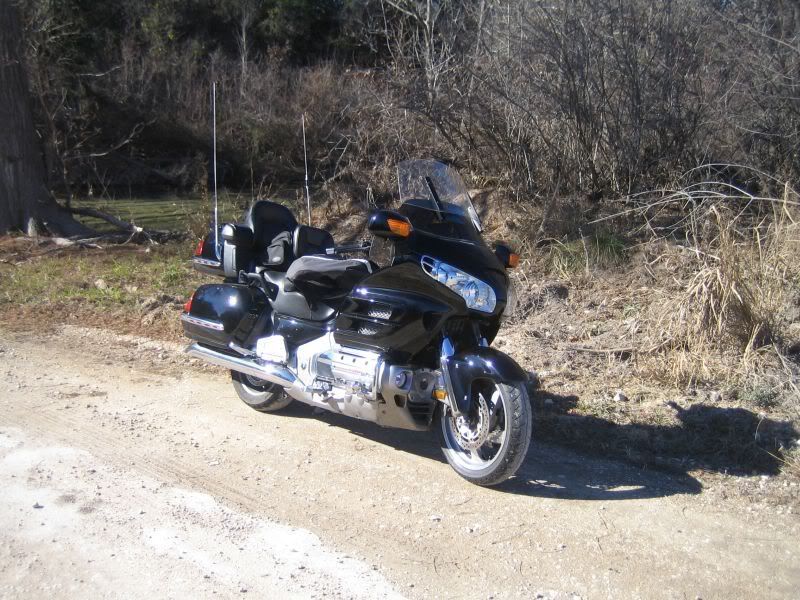 Looking up the river.
Later I get to Leakey and take a room at the D Rose motorcycle only motel. Not much to eat in town, so I pull some leftover ribs out of the cooler and heat them up.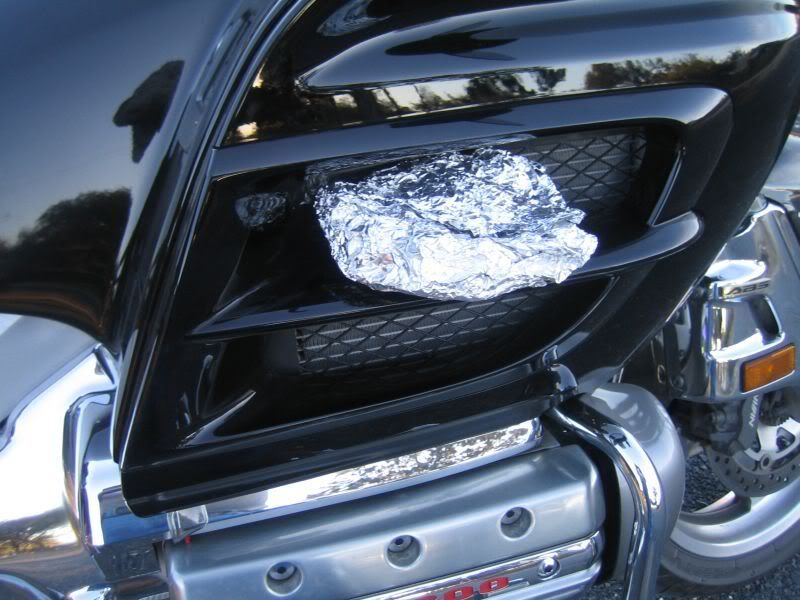 A few peppers, cheese and another cool one and I'm good to go.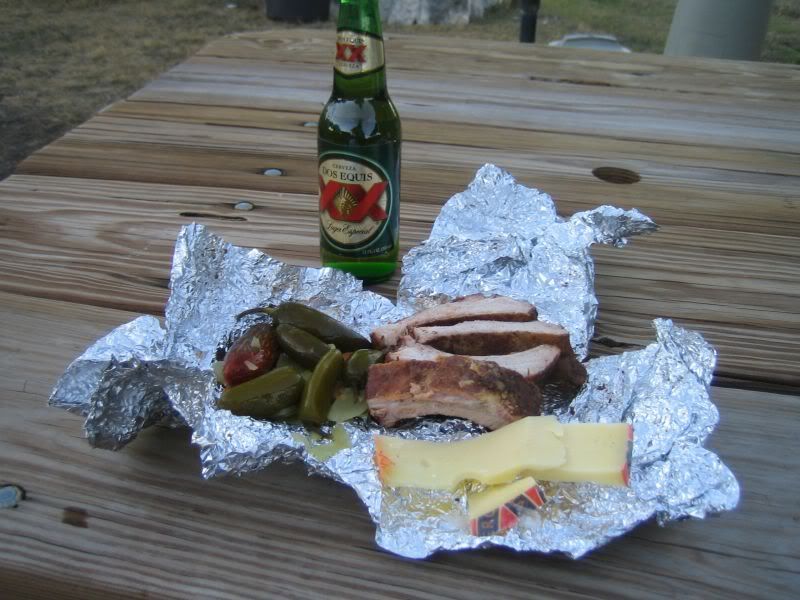 Before turning in, I watch a little caveman TV.
Next morning, I build a pot of coffee and wait for the sun to rise before riding. It's a little cool this morning.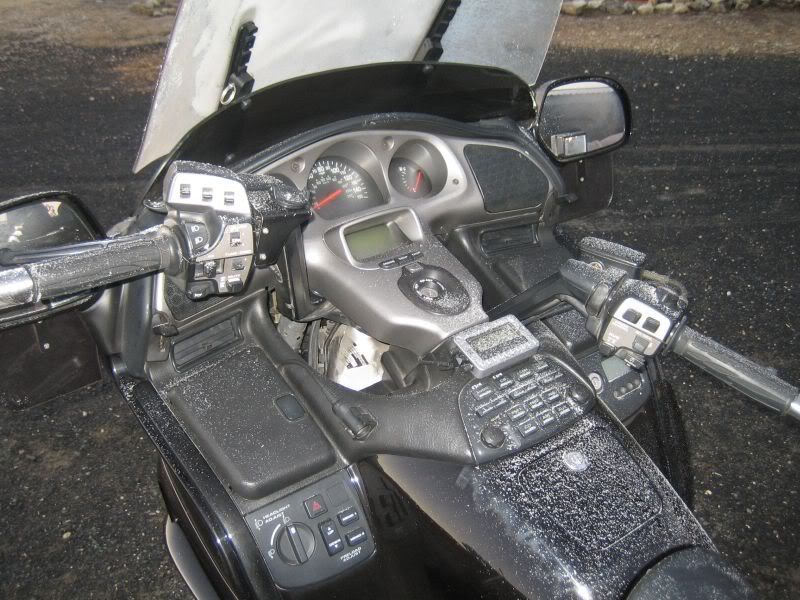 A few hours later, I am at the park and repeat a photo op.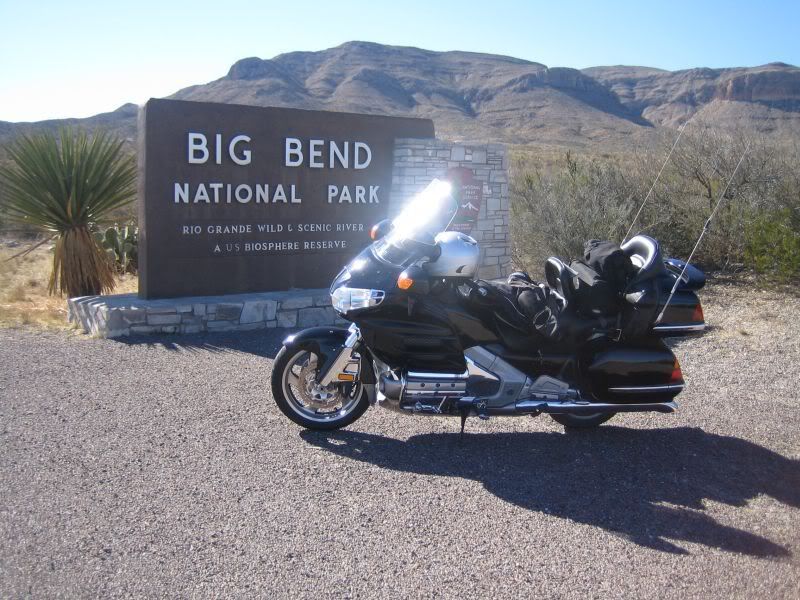 It's a nice temp, no wind, no cars and 45 mph speed limit, think I'll let the top down.
Passing the Chisos Mountains.
Can you see the Border Patrol in this shot?
I get to Study Butte about 3:30 and knowing that there are some ADVriders here (reason for wanting to bring the GS) I ride through the campground and find these characters.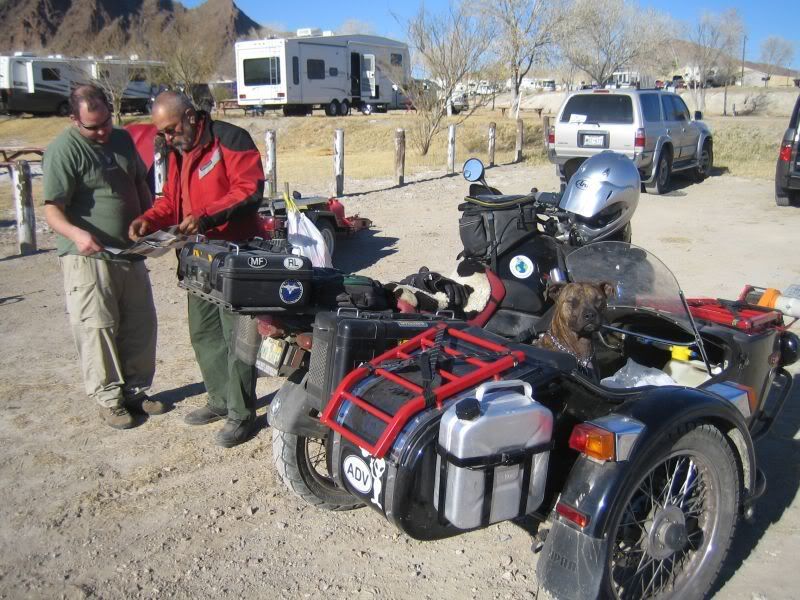 Ara (in the red jacket) has taken some time and is tooling around the country with his sidekick Spirit (in the side hack). He has a
BLOG
on his ride which is worth a look.
I get a room in the Big Bend Motor Lodge and unpack the bike. Starting to get hungry, I head to Terlingua and enjoy a nice steak at the Starlight.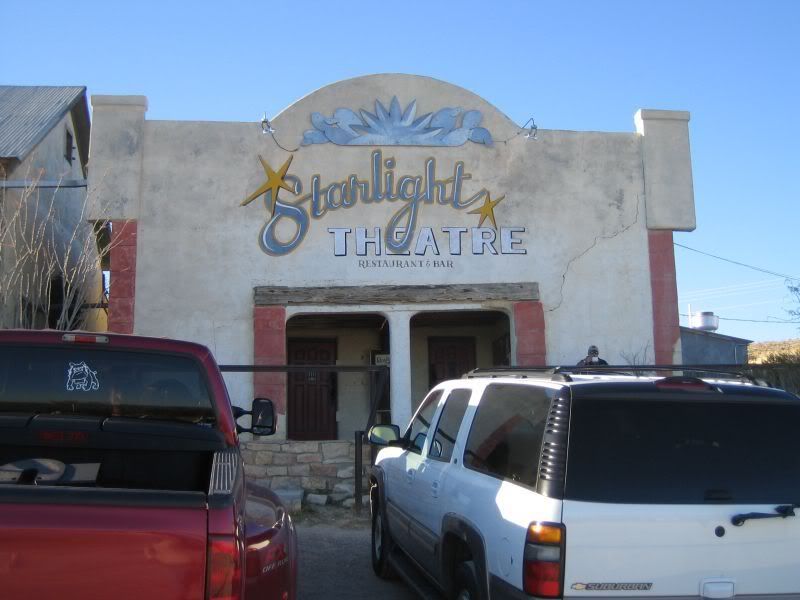 Shot of the ghost town.
These things make a tasty beverage.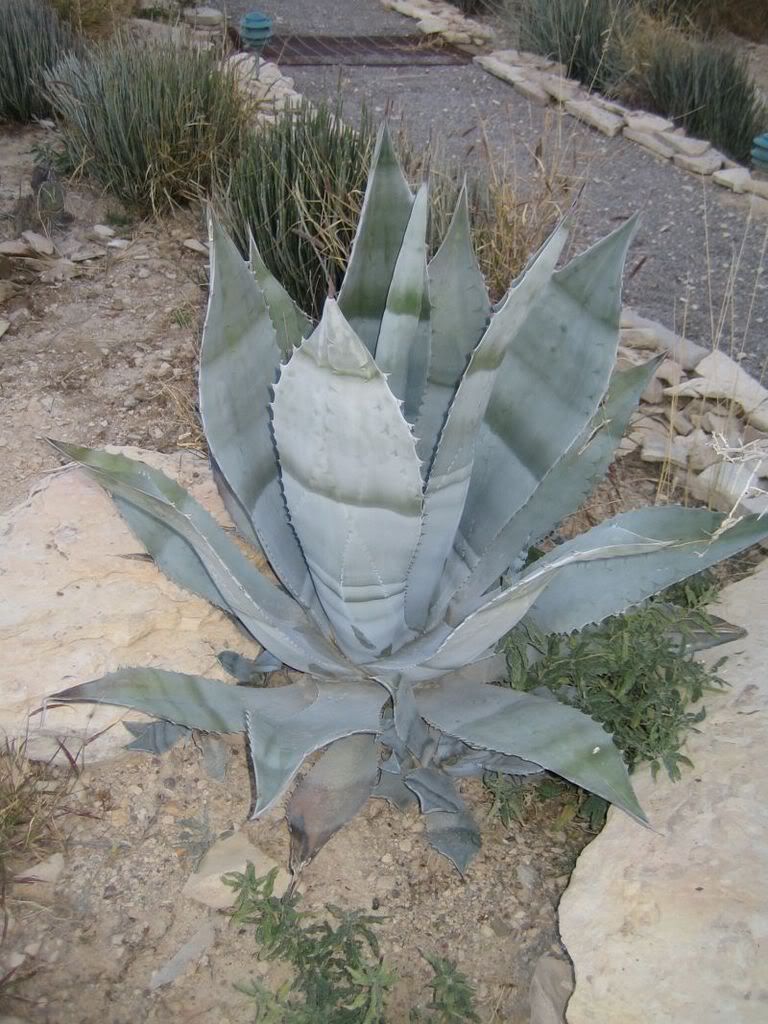 After enjoying my dinner and a couple seasonal brews, I head back towards Study Butte.
The sun going down on the distant mountains.
You see most anything out here.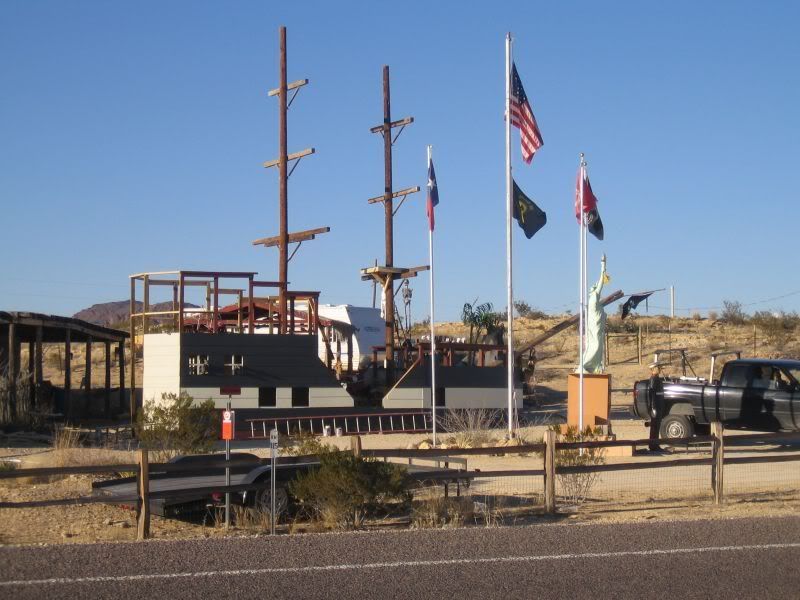 At times, there is plenty of wind out here.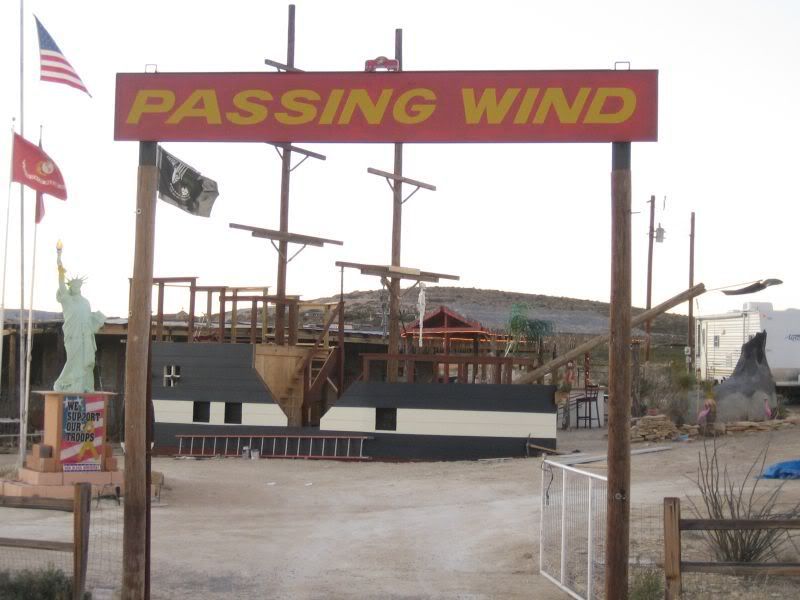 Nice 180 and Super Cub on a little desert strip.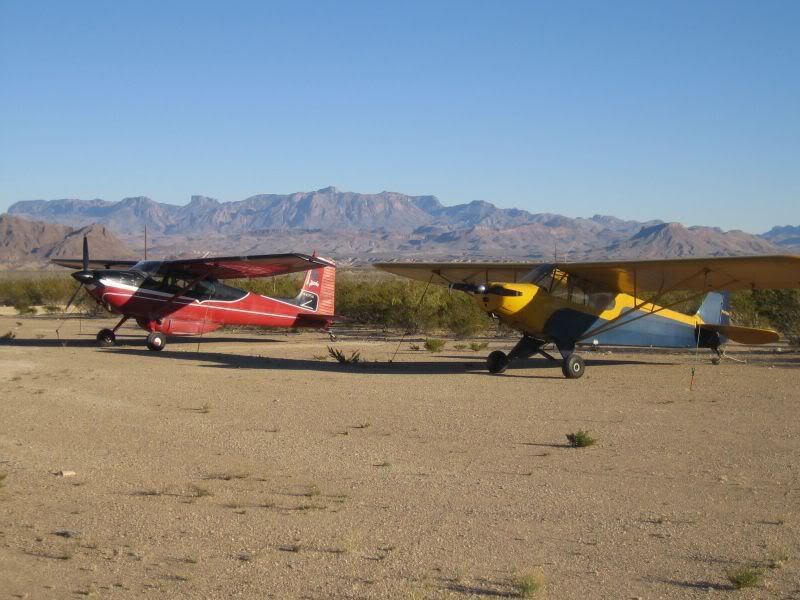 Next morning, I load up and ride back through the park headed towards Marathon. Temp leaving is 47, by the time I get to Panther Junction, it's 67 and then I drop down into the desert where it's 43.
These extreme temperature gradients make for some interesting fog cloud effects in the mountains.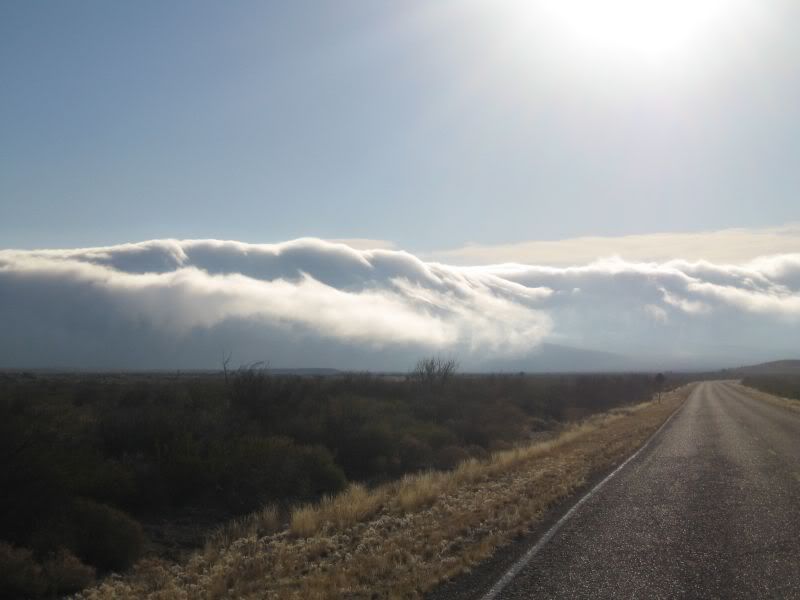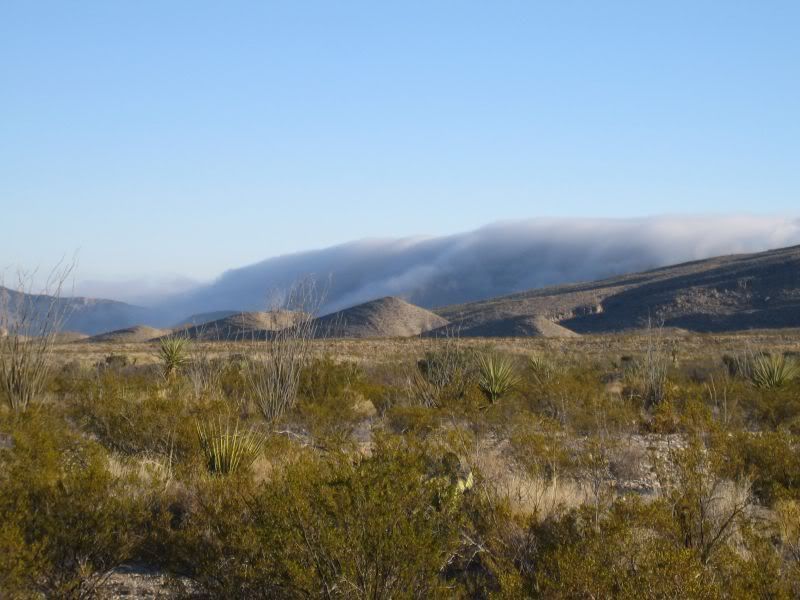 A few miles out of Marathon on 90 headed to Sanderson, I hit a fog bank and have to ride it in 45 degree air for about 50 miles. Heading North on US285 then East on Ranch Road 2400 I head towards Sheffield where I finally break out of the fog only to be greeted by a 35 MPH cross wind.
Scenic overlook on RR2400 East of Sheffield.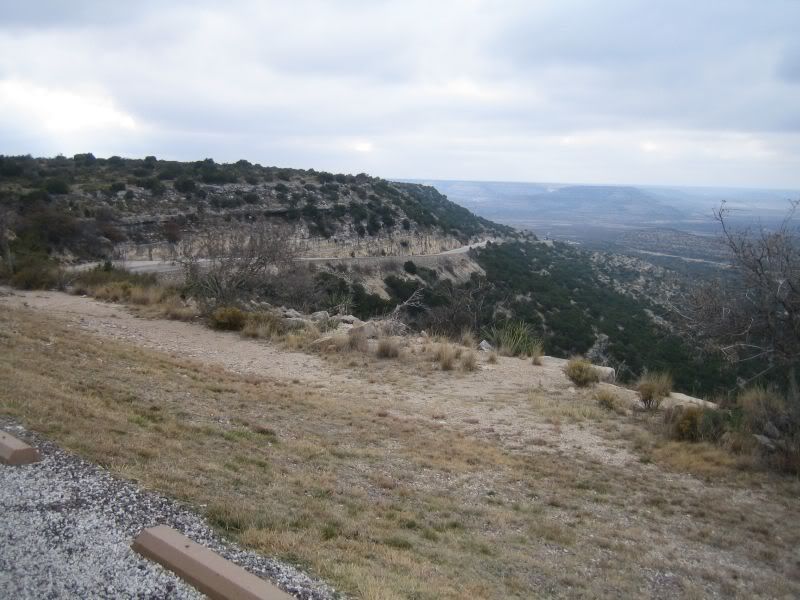 I hit I10 and make it to Hunt and head to the River Inn where the better half pulls in about 30 minutes later.
Ahhh, nice place to kick back and relax for a few days.
A little more caveman TV in one of their outdoor fireplaces.
Next day, it is raining so we jump in the cage and ride over to Fredericksburg, Luckenbach and Comfort and browse some shops.
Wonder if they actually had to light the place off to win?
On Saturday, we hop on the bike and ride over to Medena then to Tarpley for lunch at the Steep Horse Cafe. This was a good choice, friendly bunch and the food was great, recommend it highly.
After some corner carving on the sisters, we head back to the Inn and call it a good time. Tomorrow, it's a little bit of nice roads followed by interstate and boring, straight, flat roads making it back home to the coast.
Till next time,
TBB