Discussion Starter
·
#1
·
and now have to put the bike back together. This is the third GPS - the toy list just keeps getting longer and longer.....Have a Garmin GPS V on the bike but got a 2610 a couple of years ago and like it, but kept the GPS V on the bike because of its size - I liked the small one for local OR trips, only used the 2610 for longer trips. Then, a couple of weeks ago, I got a 2730 for the cage, and it is now going on the bike. WAAAY better than the others, plus I can now take off the XM radio. Anyway, I decided I wanted the mount in the center of the dash above the speedo. The vibration finally took out the GPS V on the handlebars. So I made a mount - here is the first one - the Mark 1 model. No holes required, but has a set screw to hold it in place, and it used the stock Garmin base mount. Good thing was I had quite a bit of clearance between GPS and vent.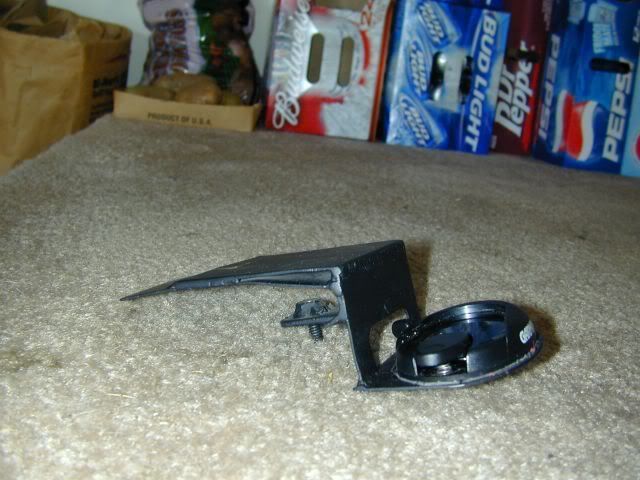 Made it out of steel because I needed a place for the over-sized magnetic XM antenna on the 2730.
Then I made another one using black Plexiglas, epoxy glue and a heat gun. First attempt at that stuff, and it looked better. But it may give up over time, and I still needed a magnetic base, so I reinforced it with a steel plate and a thru bolt. So this is the Mark II model - lighter, but required a hole thru the dash shelf and used the $50 Garmin Motorcycle mount.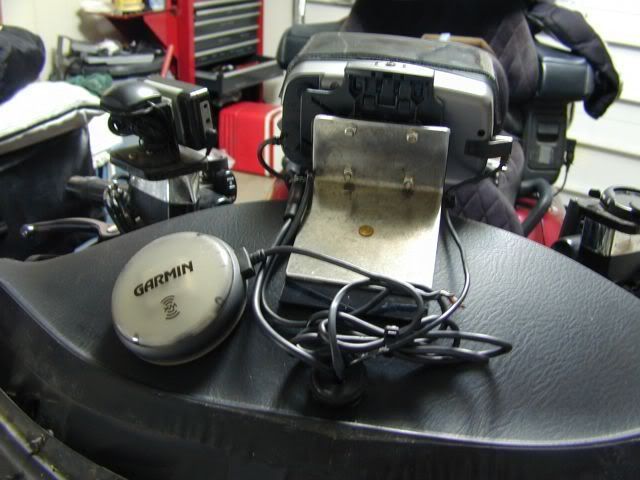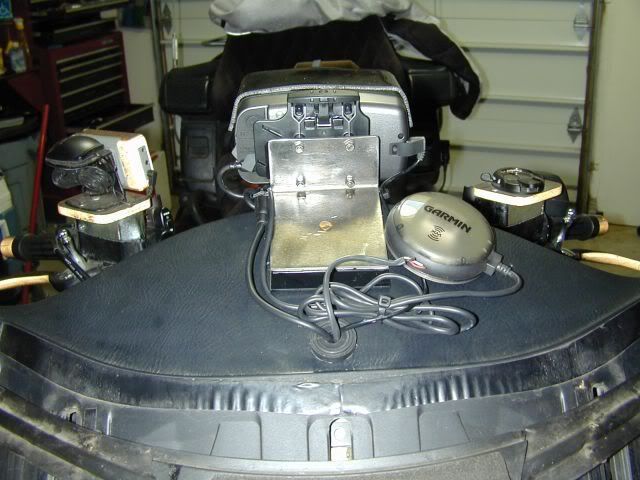 Looking at it under the dash shelf - black Plexiglas and epoxy glue
Even made a sun shade to cu the glare. More Plexiglas and a heat gun.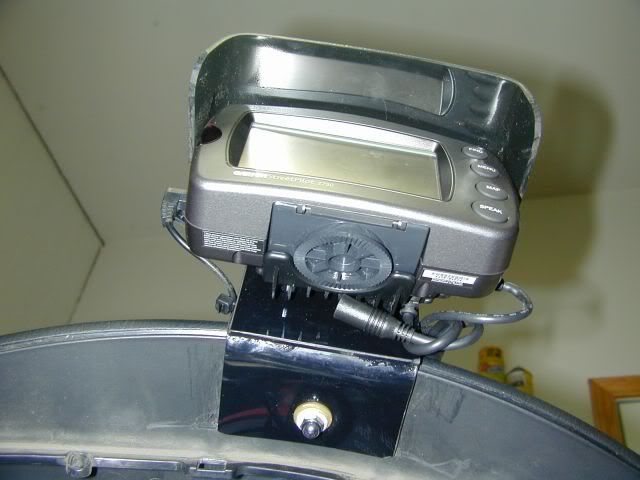 Now I just need to put the windshield back on - It just clears the stock vent, and only allows an eighth of an inch above the antenna when the windscreen is in the lowest position. Would not fit with my Tulsa, but does with the CeeBailey, but for the winter I am putting the vented stocker back on.
Anyway, that's my excuse for not riding today. If someone wants the Mark 1 mount, you can have it for the postage. It will git the GPS V, 2610, 2620, 2730, 2730, SPIII.