Discussion Starter
·
#1
·
Just got finished putting a Roady XM on the bike. Wanted it detachable. so it could be removed quickly in case of rain, moved to the car, or whatever. Here is where it wound on the bike: Right Brake Reservior. I chose the right side because the cords come out of the left side of the Roady, and I wanted them toward the center of the bike. The other side of the bike would have been a lot easier.
One of the tings I was concerned about was reported interference with the Garmin GPS antenna signal being stepped on. They appear to get along just fine, as I remounted the GPS V on the left Clutch Reservior. The signal strength with Roady on and engine running is just fine.
I got a short length of aluminum bar stock (3/8'X3") and cut it to the same length as the clutch reservior top, rounded the corners, drilled and countersunk the two mounting holes, made it black, and replaced the current rounded tops. I happen to have switch blocks under there also, so they just stacked up, but work either way. I then made the mounting bracket from aluminum to hold the Roady bracket and the antenna. Antenna is held on with Velcro, but in retrospect steel would have been better, because the antenna magnets would have worked. Also, if the antenna base would have been bent rearward, antenna would be right over the Roady.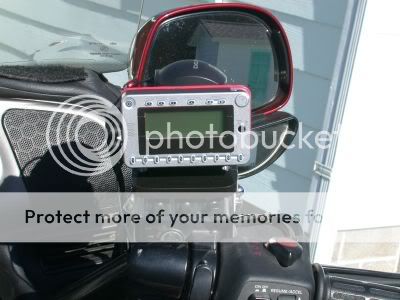 Another good reason to set the antenna rearward is windshield clearance with the mount. This way this one is shown will not clear a Tulsa, and only clears the stock windshield by a half inch.
But, all in all, it looks OK, is simple, easy and not expensive. I still need to take the old GPS V mount off the dash, so I got room for something else. Maybe a TV screen?
Well, the sun is out ant its time for about a Hundred mile road test. Thinking of you, Dawg, because mine is done. And its warm out.