Discussion Starter
·
#1
·
The measurements that CJS so kindly provided have given me the confidence to post the tool I made many years ago that worked on the steering stem nut of my '81 GL1100. I found out later that it also worked on my '01 ST1100. I always wondered if it would work on my '05 GL1800 (see signature), but was too lazy to check. Well, the measurements CJS provided have convinced me that the tool I made most likely
would
work on the GL1800. Thus energized, I checked the FSM's of both my '01 ST1100 and my '05 GL1800. Yep, same tool!
My tool is ugly, but it costs next to nothing to make. It works well (I've used it several times in the past). The ghetto approach reflects the fact that I've never had a really good paying job in my entire life.
Someone posted earlier that 1 1/2" pipe would be good stock to make a steering stem wrench from. That is what mine is based on, an 11" long section of 1 1/2" galvanized water pipe. There was a reason I made it this long (to use on my '81 GL1100), but it escapes me now. Anyway, here we go:
Here is the section of pipe. It is 1 1/2" galvanized water pipe:
Here is the business end of the tool. I made four notches with a hacksaw and did the finishing work with a Dremel cut-off wheel. I took the measurements from the steering stem nut of my old '81 GL1100. I'm amazed at how closely the peg measurements match those given by CJS (above). Look at all the rust. That's what eight-plus years in Houston will do to your tools!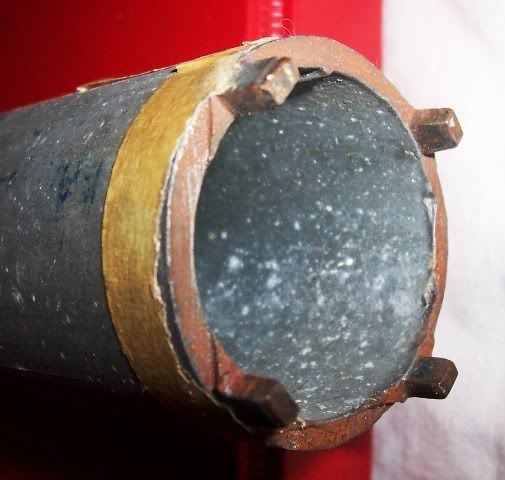 Next up in Digger's panoply of cheap-skate tools is a nut-cracker. I don't know how these things are sized, but the ID of the round hole on this one measures 20mm, or just over 3/4".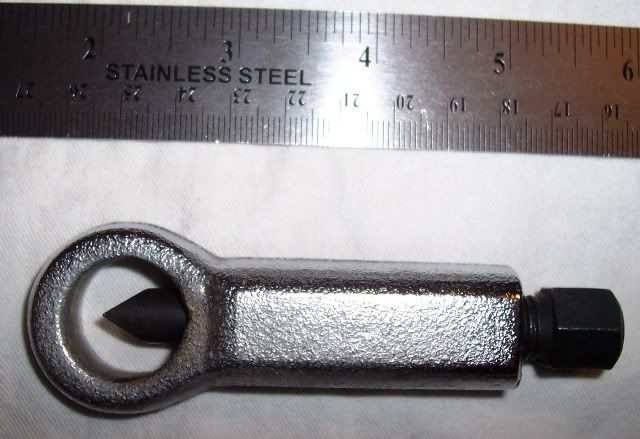 Next up, I've removed the threaded chisel portion of the nut-cracker and replaced it with a stout bolt with the correct threads. I placed four thick washers between the bolt-head and the body of the nut-cracker. I can't remember why I used the washers here, but I must have had a good reason:
What is all of this all leading up to? Well, about 2 3/16" inches in from the end of the pipe (the end opposite from the notched end), I drilled a 21/64" hole clear through the pipe. (Why 21/64"? Well, I'm guessing that the 5/16" drill bit I had at the time must have been dull and that I was too lazy to go get a replacement):
Next, I scrounged up a long bolt that could go through the hole I'd just drilled. I placed the loop of the nut-cracker assy into the end of the pipe with the drilled hole and stuck the bolt through the pipe and the loop of the nut-cracker: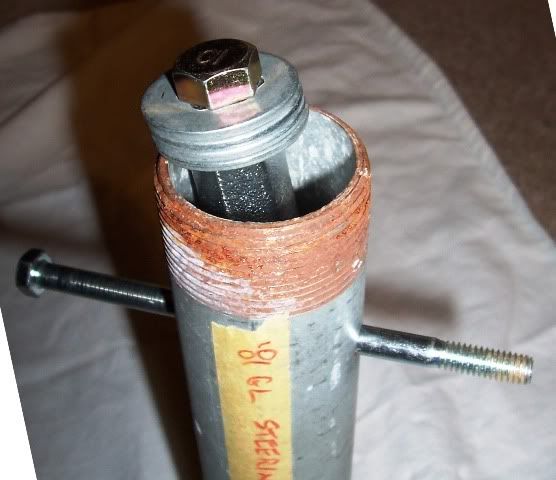 Here is what is going on inside the pipe: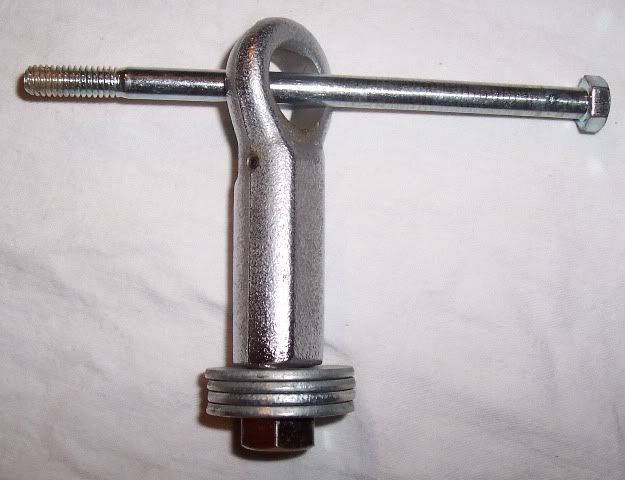 Next, just pop the notched end of the pipe on the steering stem nut, place your torque wrench on the nut, and torque away!
Ugly? Yes. However, it is functionally as good as anything else out there.
Cost? Even nowadays, I think you'd be hard pressed to blow five bucks on this one.