Discussion Starter
·
#1
·
Until about 2 weeks ago I had never heard of Powerlet products. I must say...they are damn good and super quality stuff.
They have pretty much everything you need to get power to anything you could possibly want to power on your bike.
I was very impressed with the quality of the products. I decided to NOT go with the side panel mounted receptacle to provide power to my Gerbing set up and just went with a wire tied receptacle tied to the left side tip over bar. I just didn't want to drill into the plastic.
I also ran a SAE plug under the seat and into my trunk drilling a small hole in the very bottom trunk corner. Made it look nice by using a rubber grommet in the hole. Actually....looks OEM. On the SAE from the battery in the trunk is DUAL 12V cigarette sockets....one 12V socket is open for 12V and the other had a DUAL Griffin Powerjolt USB 12V plug in it. One is to keep my iPhone fully charged while using it through my Sena helmet Bluetooth and the other is to charge my Sena while stopped for breakfast or lunch during a ride. The 12V open socket is used to charge my iPad or Macbook Air. If I get a flat....I pull the SAE apart in the trunk and plug in my slime compressor...and in the winter I use it to plug in my battery tender.
I have this in the trunk: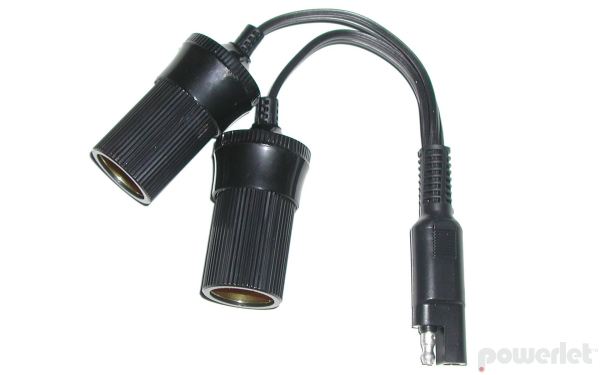 I put one of these in one of the 12V socket heads:
I used this for my main plug in for my Gerbing Gloves and Jacket Liner....