Discussion Starter
·
#1
·
I haven't cleaned my rims since the summer of 2007 if I remember correctly.
Sure, I'd give em a once over with a cloth, but nothing spectacular. Yesterday, I decided to take a few hours and try to clean them a bit, so I went out and purchased a pack of Libman's Heavy Duty Scouring Pads. I tried SOS pads lightly on the rims a few years ago, but decided against it. I tried Mother's Powerball, and while it did a bit of cleaning, it wasn't clean, nor did it get rid of all of the dirt.
Well....I remember seeing SOMEONE post about these Scouring pads, and decided to give it a try.


Wooooo-Hooooo !
What once took over an hour for a wheel, I completely cleaned it in less than 10 minutes !!! A bucket of water and some dish washing liquid, and it was soo effortless, I could not believe my eyes ! I initially tried the Mothers Mag and Aluminum polish with a cloth, but to no avail (for the most part). Using the Libman pad, it took less than 5 min/side on the front wheel to almost get it to the point where it looked like I just purchased the bike !
Anyway, it's not much, but, I'd like to thank whomever made that post about the Libman Scouring pad for the info. I won't have these wheels chromed or powdercoated, but from now on, I will keep them cleaned and polished, now that it only takes a few min with the libman pad.
Here's a pic of the rear wheel, but the front looked just like it.
Here's what the Front tire looked like after cleaning it with the pad, but not quite finished using Mothers Aluminum polish.....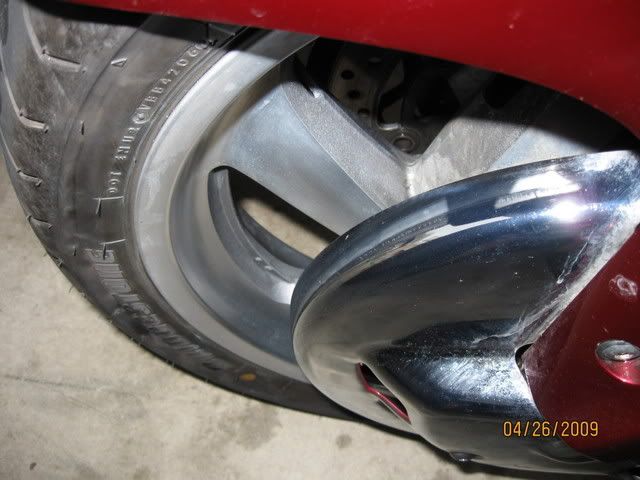 And what has become an addition to my cleaning arsenal. :thumbup:
I imagine any other (scotchbright, etc) will work also.
Sorry bout the blurries. MY hand moved.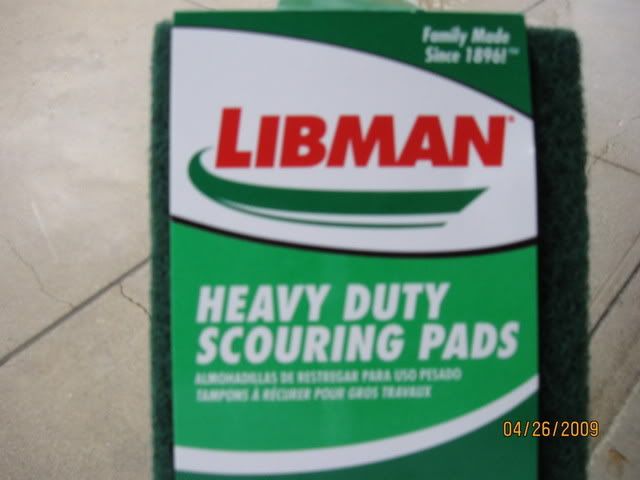 It's not much, but, I'm happy. Good to have a board like this around for info!