Discussion Starter
·
#1
·
I wanted to post a review of the Tire Stripper because quite a few folks were asking and I could not find a review at all on the internet. I know there are quite a few folks look'n at this changer so I will give a proper review.
I ordered the stripper on Sunday, May 3rd and received it on Thursday May 7th, installed it in my garage, this weekend I changed the rear tire on my GL1800, tire was a Dunlop E3 with about 16 thousand miles on it.
My background is basically a hands on guy that does almost everything and anything myself so I'm not afraid to get my hands dirty, I previously used a Harbor Freight tire changer and it worked well if you didn't mind sweating a little and it did take a bit of cussing but it worked fine for the price, no more on that. I did break it, my fault.
I heard of the tire stripper by chance reading a thread in a forum and decided to take a look, the website has a video of Mark changing a GL1800 E3 rear tire, awesome, I was intrigued. Checked and they were out of stock, that's ok, didn't need it, got the Harbor Freight. Anyway, I went to change my front tire on Saturday, got it almost done, SNAP, well at least I finished the front but I can't do the rear. Broken changer, excuse to get a new one. Ordered the Tire stripper on Sunday, they were in stock now. Got an e-mail confirming my order, liked the order process, it will take credit cards and paypal, love paypal. To my amazement it shipped Monday. Needed to find out when it would be here so I shot them a e-mail and followed up with a call (normally the link provided on the shipping email will tell you but a glitch in the system was not giving me a shipment date). I talked to Mark and he stated that he was actually answering my e-mail as we spoke, UPS tracking number in hand, to arrive Thursday, wow, woohoo.
So I received the changer on Thursday, as stated on the website everything listed was in the box, it came in great condition, the changer looks fantastic, nice finish, I then got right to work installing it. The package comes with the Concrete Anchors and Bolts, and the set Tool, One note they sell a ½ inch carbide drill bit to use to install the changer into your concrete for 7.00 so if you don't have one I recommend buying it from them, that's cheaper than lowes, if you already have one like I did no need. Anyway, drilling is strait forward just make sure you have clearance of about 2-3 feet around the device, a template was provided with the package.
I have added some pictures to this review of some items, since I thought they were important I figured at least 1 or 2 of you may be thinking the same thing, if you reviewed the website other than the video you would have seen some similar to these.
Here is a close up of both ends of the tire iron. Plastic/Teflon tips to prevent damaging your rims.
Good look'n welds.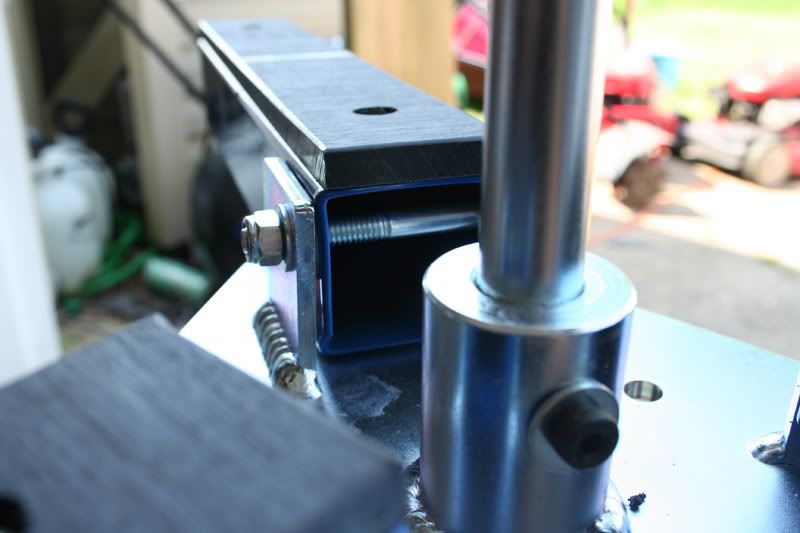 Ok now on the removal and change, the bead breaker works great, being at waist height works a lot better and the bead broke away fairly easy, as stated and shown the breaker has a plastic cover or edge to protect the tire. I like the idea of working around the tire not having to spin the tire.
I tried to follow what was done in the video when it came to actually removing the tire, I had my own way of putting on the wheel lock clamp and I did use a ratchet strap to help in getting the first lip over the rim, good idea. Once set into position like I stated I tried to imitate the video, removing the tire was easy, first bead came off easy as pie, the second inner bead was just as easy, I usually have a problem at this point mostly just angle adjustment and getting a tool in there to pull it over the rim, this tool worked great, so getting the tire off took approximately 3 minutes. Came off like butter, Now to put the new tire on.
Again following the video, putting the first bead on after lubing up some of the tire and rim went on like a breeze. I used a ratchet strap just like the one used in the video, this was an idea I had not thought of and the use of blocks is a pain in the butt, once I got the tire where I wanted it I tightened it down and it kept the tire in the valley it also helped in keeping the tire from spinning on the rim. Note to self...Mark does this quite a lot I'm sure so getting that tire down in the valley and keeping it there to ratchet down the strap was not an easy task, maybe I'm just a wimp. In an e-mail conversation with Mark he suggested using the strap and offered one if needed "I had some", he did say that he was thinking of selling a strap as an accessory.
The tire slid on up to about the last 10 inches or so, then after a few minutes of grunting the whole tire was on, that last part is not easy as some of you may know, I found it extremely easier to get on with this tire iron and I did have to put some umph into it, but in comparison wow so much easier. Also I did not use any spoons as stated in the video it was not needed. Total time was around 20 minutes.
Pro's
I like the adjustability of the stand, this helps to put the bead breaker and tire iron at waist and chest height vice chest and shoulder height "better leverage"
I like the openness of the top, there is no overhanging support arm so you actually get 360 degrees of movement, with the design of the tire iron you don't need a support arm.
Heavy duty welds, heavy 3/4 inch center post, heavy box tubing for tire iron, bead breaker was nice heavy gadge pipe
The design of the tire iron is unique in itself with the slot down the middle of the bar keeps the bar from twisting out while turning it on the wheel/tire.
As stupid as this may sound I even liked the lube bottle, rather than using your fingers to slap on goop or a spray bottle you get a bottle with a brush on the end, this allows you go put the goop where you need it most.
Support arms fold up making the foot print smaller so if you mount it permanently it is out of the way, the top also slides completely out.
Customer service was outstanding, shipping was quick, package arrived undamaged
Plastic caps ontop of the support arms, prevents scratching of rims, better than rubber IMHO
Dallas Cowboy color's - woohoo
Con's
Well to give a proper review you have to have a con or two.
The three support arms are box style which as you know gives strength, I'm not an engineer so I can't say for sure but this would be the only weak spot, the metal used looked to be about 1/16 inch, I may be wrong....I would have went with 1/8 inch. Now in saying that after changing my tire I did not see any problems, and during the change I did not have any flexing, I just would have made them a little heavier since they play such an important role.
There you go, If your looking for a tire changer this is one that I would recommend to anyone, great design and unique. I will say cost wise this would be the upper end of purchasing a manual tire changer, but it is reasonable and with the quality of the item IMHO justified, now in saying that this is not the most expensive on the market, this is probably right in the middle, but for me it is the most I would pay.
Now I need to get a balancer, time to save some money.