Discussion Starter
•
#1
•
Hi All, I have a set of trailer tongue mounted cooler brackets I made for my TAG-ALONG last year, and used all season, for sale. The way I travel with nothing in the cooler and not a very large cooler, these brackets are a little overkill for me. I did make a smaller set so I don't need this set anymore.
This set weighs at approx 7lbs. 2 oz.
I would sell these for $50.00 plus $10.00 shipping if anyone is interested. I want to be a good forum member and offer if you do not like them in a reasonable amount of time (how does a week sound?), you could return them for a refund minus the $10.00 shipping.
I have this set listed on Craigslist locally, So here is the text I used as well as the pictures. In the picture you see of the complete trailer I had a tongue weight of 29 lbs. empty and 35 lbs. with the trailer full on the way out to South Dakota. Not sure why, but on the return trip the tongue weight was 40 lbs. I really did not have anymore in the trailer, so It had to be the way I packed it.
Any questions, let me know, I'll do my best to answer them.
Since I listed the set on Craigslist, here is a copy of the text I used to describe them.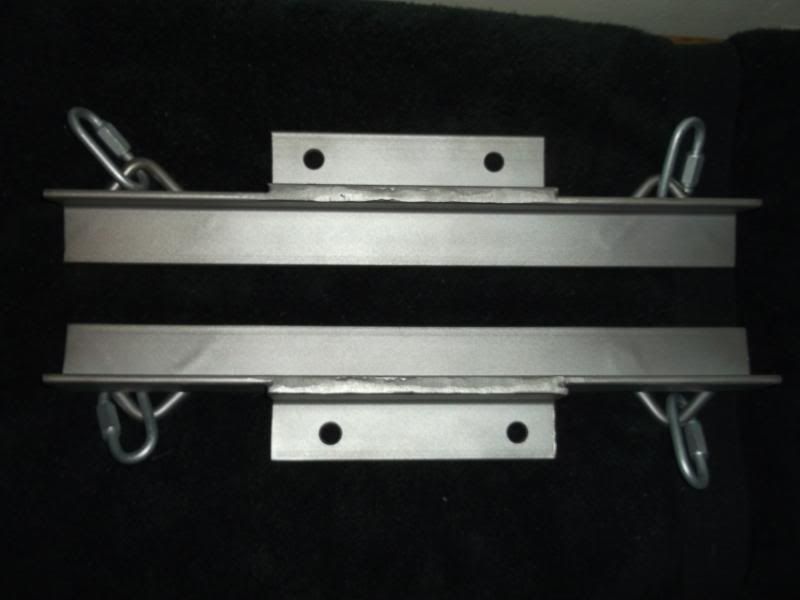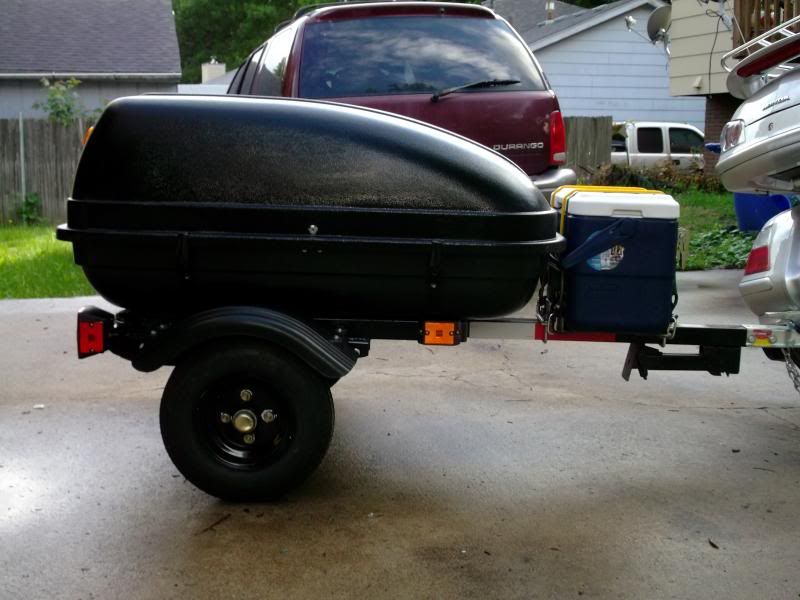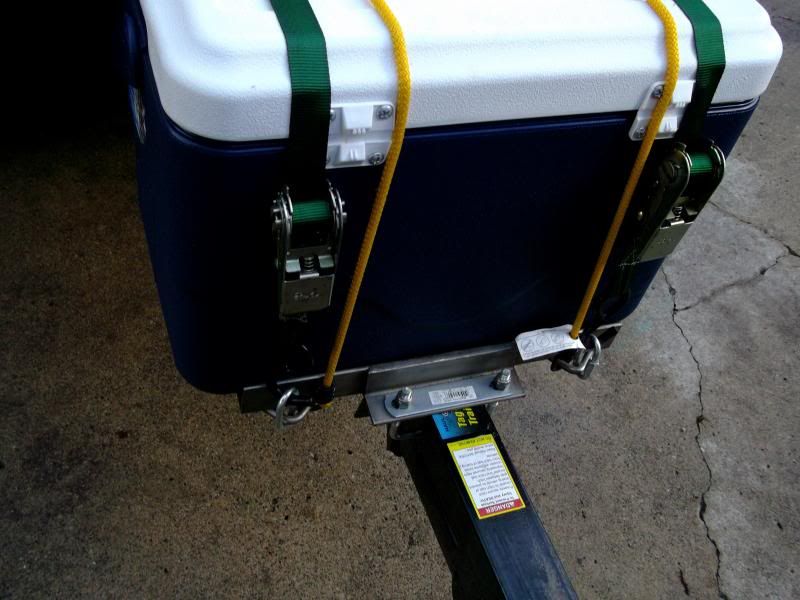 Motorcycle trailer cooler brackets. Can be used for almost any trailer you would like to have a cooler ride on the tongue of the trailer. I used them last season on my Tag-Along trailer that I pulled behind my Goldwing, and they exceeded my expectations. Longest trip last season was over 1600 miles round trip, and had no problems at all with my cooler being secure.
They are made of Stainless Steel "L" bracket stock, 1 1/4" wide. They are VERY STURDY!! I used 2 square "U" bolt brackets to attach to the tongue (you'll have to supply those) easy to get at any hardware store.
The mounting holes are approx. 4" on center to fit almost any tongue.
The connecting hooks (part where you hook your ratchet straps to hold cooler) are 11 1/2" on center to fit almost any size cooler. I used a "Coleman 28 quart Performance Cooler" $19.88 at Walmart, for my trailer. You can use a smaller cooler as well as a much bigger one if you choose.
These brackets are beefy and I feel a little overkill for my style of use, since I do not travel with the cooler filled with ice, or a very large cooler. So I do not have the strength concern of someone who would like to travel with their cooler filled or one that is bigger (and these brackets are adjustable to a much larger or smaller cooler). I made a smaller set of brackets to use this season and don't need these.
I will include the connector links for you to use to hook your ratchet straps to.
You are also welcome to see how I use the brackets on my trailer and how secure your cooler would be by using these, which is VERY SECURE!!!
Considering the quality of materials and price of other cooler brackets on the market I think these are a much better option to anything out there. The biggest advantages are you can use almost any size cooler, since they can be adjusted to any width. And the way the straps hook to the brackets I think it would be VERY difficult for your cooler to become unsecured.