Discussion Starter
·
#1
·
Some people need some modifications to the original bikes to ride again.
This is what was put on a MotorTrike conversion to enable a person with
limited use of his feet to ride, and it works very well. This is on a GL1500.
First is the shifter. It is an electric shift run by a pair of buttons on
the handlebars. I thought it was interesting that it was not designed for
a handicapped aid, but for race bikers that wanted quicker shifts. However,
it works really well on a wing. There is even an interupter you can add
that makes split second shifting without the clutch possible. Still need the
clutch to get the big horse running, though. This is the shift buttons on
the handlebars.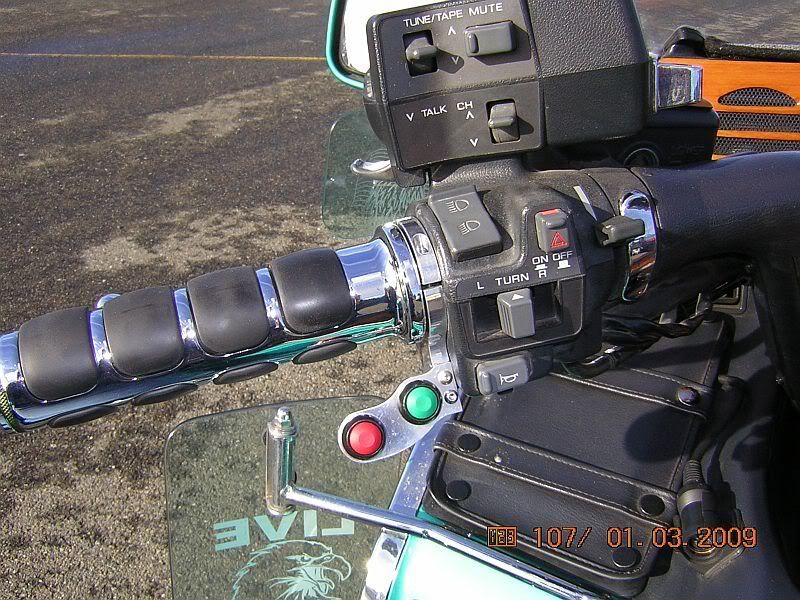 This is the electric shifter mounted and looking down at it.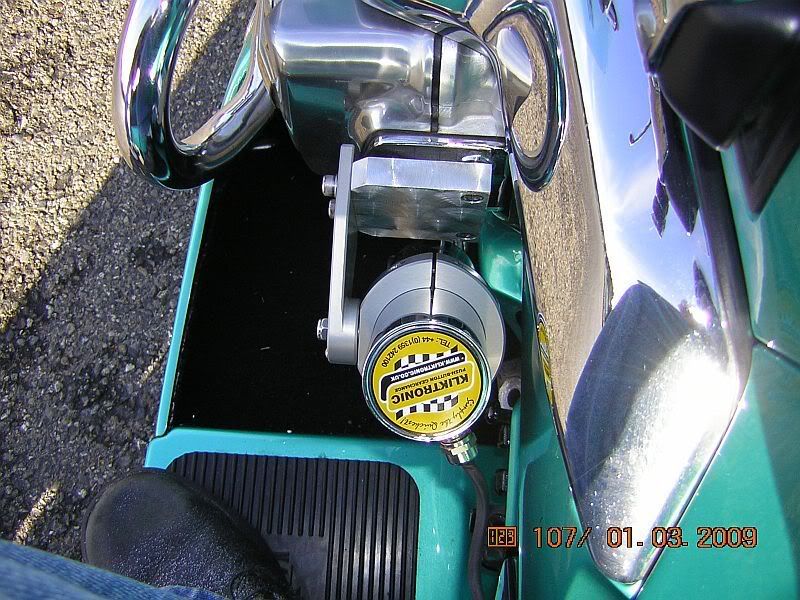 And this is what it looks like from the side, with the footpeg removed.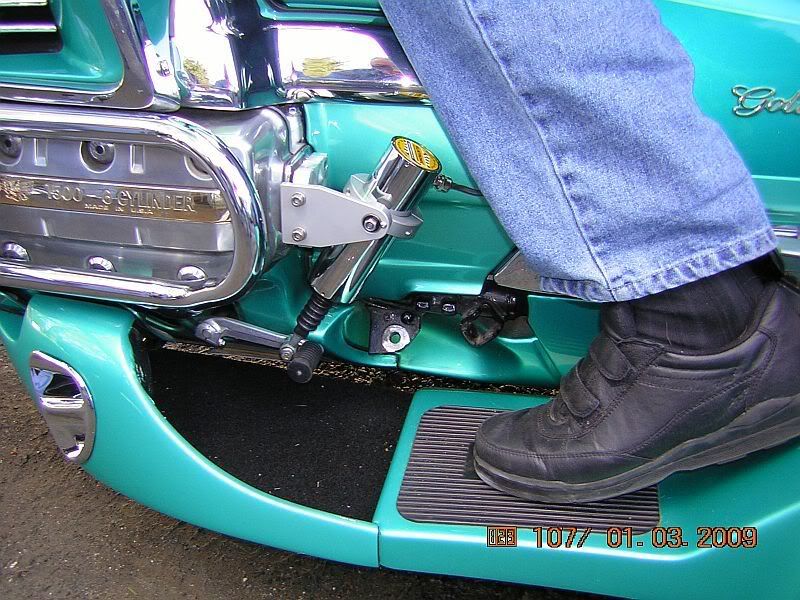 And on the other side is the brake set-up. The linked brake system has been
seperated, and a dual master cylinder has replaced the stock one. One
(top lever) controls the rear brakes, and the other (bottom lever) controls
the front brake. They adjust really easily, and you just set them so when
you apply the brakes, your fingers first activate the rear brake, and as you
put more pressure on the levers, you reach the bottom lever which applies
brakes on the front wheel. Or, you can adjust them so its all front or all
rear brake - there is that much flexability in the system.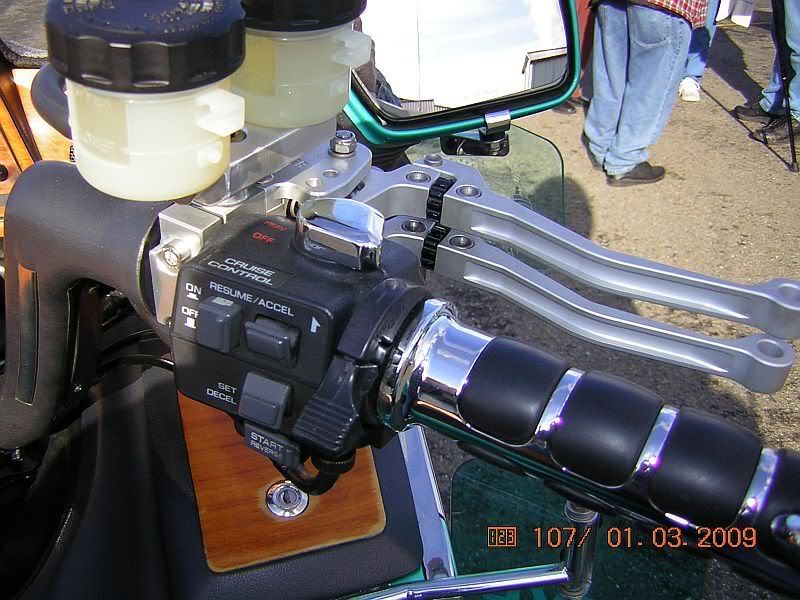 The adjusting wheels are black plastic on front of hand levers.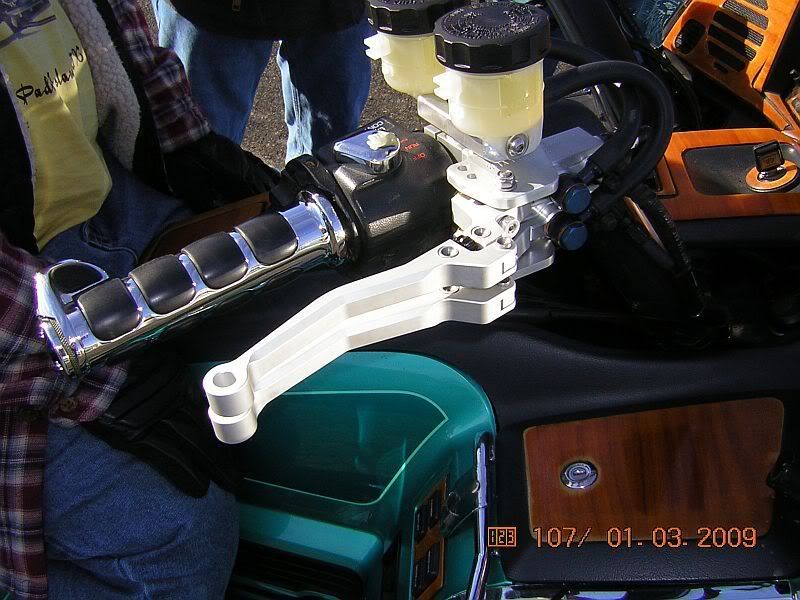 The will also maching the levers with a little more curve in the levers for small hands.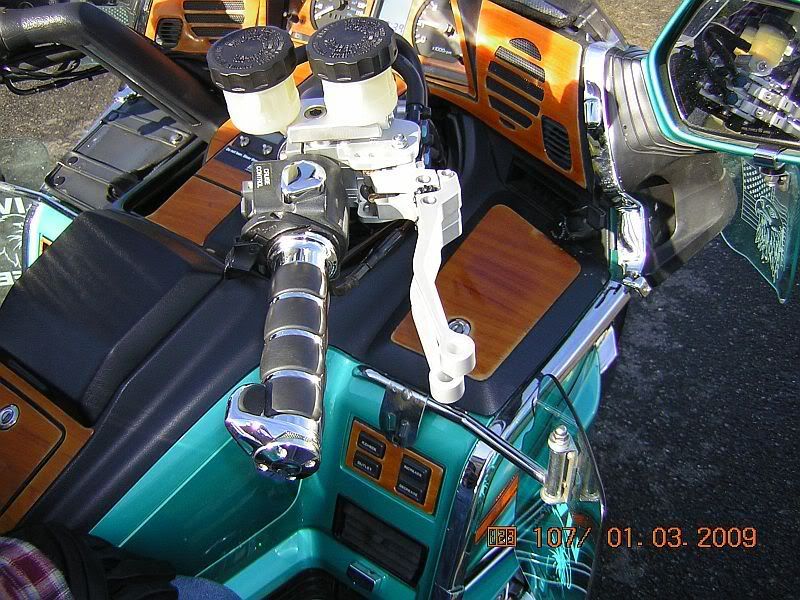 I have tried this set-up, and find it very comfortable and easy to get used to.
I have to add that taking the foot pegs off sure makes a trike with running
boards a lot more comfortable to ride. And tends to make one lazy....
This set-up including the trike kit was installed by S&D Custom Cycles in
Grants Pass, OR, and they are a MotorTrike dealer. They also are distributers
for the shift and brake kits. I have had real good luck with their work, and
they are one of very few I would recommend.
Now, Wheels, just so someone can get information, how about posting your
conversion with a few pictures? I am sure there are handicapped persons
really wanting to ride, but do not have any information.