Discussion Starter
•
#1
•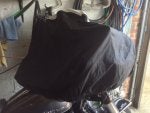 Two custom made Windscreen / Handlebar Covers. They serve two purposes, they cover
your Windscreen, and HIDE your Handlebar Electronics. These were made from combos of
the standard windscreen cover and motorcycle covers. Partially water resistant. Pinned together by
me, and sown by a tailor. Only one issue here, I sold my Wing, and don't have a picture to
show you. A lot of time was spent developing these, all trial and error. In the end, I had a
nice cover to use when running into stores and NOT WANTING TO REMOVE THE SIRIUS,
RADAR, I POD. Remember, your bike is an eye catcher. When honest eyes sees things they need
not see, some can turn dishonest. Each of your electronics can run from $100. - 600. I found a need.
Remember, these are not professional made, but pretty good, I must say. Comes in plastic storage
bag. I took pictures on my Harley, they weren't made for it, but it gives you an idea.
On a GOLDWING, they really look pretty good.
I wish I had a wing here to show a pretty good fit Priced Lowered to $25.00 Cover your electronics when you go in a store, BUMP
Price lowered again
Two available
each $25.00 shipped USA,
CANADA- add $5.00
paypal good,
[email protected]
frank